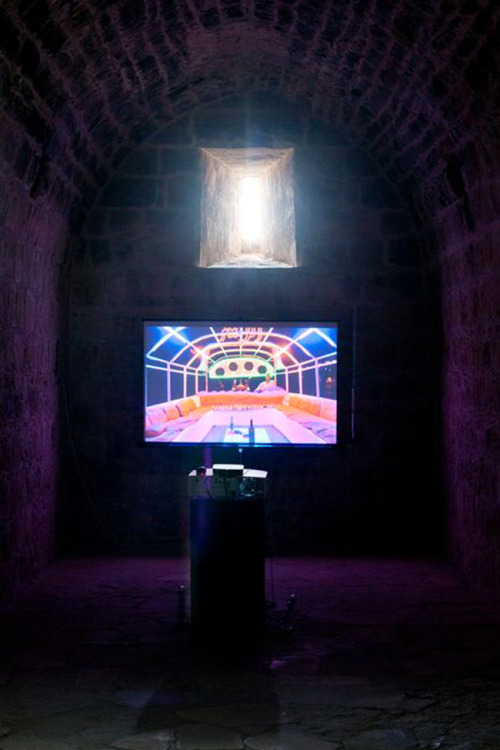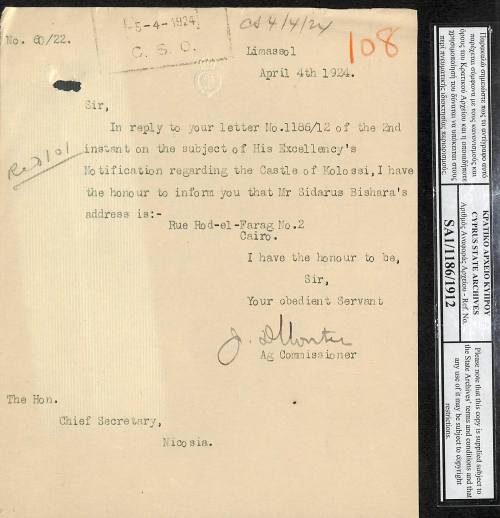 The Sons of Abu Hal'a
HD Video
7'11''
sound
2015

"The Sons of Abu Hal'a" (2015) is a result of an informal study on the shift from private property to government acquisitions during English rule in Cyprus, specifically relating to the Medieval castle of Kolossi, in Limassol. An official letter (1924) found in the Cypriot State Archives reveals the address of the last recorded owner of the castle, an Egyptian man named Sidarus Bishara, before its declaration as an ancient monument by the English Antiquities Law. It is stated in George Jeffrey's diaries, that Kolossi was passed to his possession in 1906.

When Sidarus Bishara was approached by the 'Hospitalers of St. John of Jerusalem' to sell the property for 600 pounds in 1909, an amount on which he agreed upon, on the appointed day Mr Bishara appeared (as Sir Harry Luke notes in his book 'Cyprus') : "with a long face and abject apologies". His wife had seen a prophetic dream and urged him to not sell the property.

[Colossi was declared an ancient monument in 1918 as part of the Antiquities Law of the English rule and was finally acquired by the Cyprus government in 1929] .

Following this discovery, I decided to set out to Cairo to track down if anything still remains there, hoping I would experience an echo of Mr. Bishara. Disappointingly, I encounter a traditional coffee shop in a derelict area with its friendly but suspicious customers. I eventually got distracted and seduced by the vibrant and loud felucca boats on the river Nile.



---

Unseen Cinema
27th International Ankara Film Festival
Goethe Institute
Ankara, Turkey
Programmed by Deniz Johns

At Colossi and the castles
Colossi Castle
Limassol, Cyprus
September
Curated by Nadia Anaxagorou